TL;DR- An added security feature on KuCoin is the 6-digit numerical KuCoin trading password. If hackers took control of your computer, the trading password would protect you from losing your crypto. No, you can't get rid of it. Use the 'Jump to Section' above to get down to exact instructions on how to set and reset it.
The KuCoin trading password is a pain but well worth the benefits KuCoin brings. Fees are lower, but crypto exchanges still have some time to get to commission-free trading as stock brokerages have.

What is the KuCoin trading password?

KuCoin's trading password is a 6-digit numerical code used for account security. The platform will prompt you to input the trading password before performing any trades on your trading account or withdrawals from your main KuCoin account.

For many, the added security measure is a pain on top of many on the KuCoin exchange. If you want to send crypto from your account to another exchange (like Coinbase) or a hardware wallet (like a Ledger Nano), KuCoin requires:
Your two-factor authentication code
An email confirmation code
Your trading password
Yes, It's a pain

These security measures seem like a lot, and they are. But such is the pain of being on a platform that requires no KYC process for basic-level trading. Although, you'll have to go through the KYC process if you would like to leverage your trades more than 5x (and up to 100x!).

Why have a trading password?

Since the crypto asset class is still young, there are unfortunately a lot of scammers and bad actors as a proportion to all crypto hodlers. If some hacker were to take control of your computer or phone, you'd want protection from crypto theft.
The trading password can protect against theft from hackers. I used to think security like the trading password was overkill, but the longer I've been in the crypto space, the more horror stories I've heard about theft. There's a tremendous incentive for bad actors to access your account.
Resetting from the trading screen
When you click trade–>spot trade from the KuCoin homepage and hit the trading screen, you'll be prompted to enter your 6-digit KuCoin trading password on the bottom right of the screen.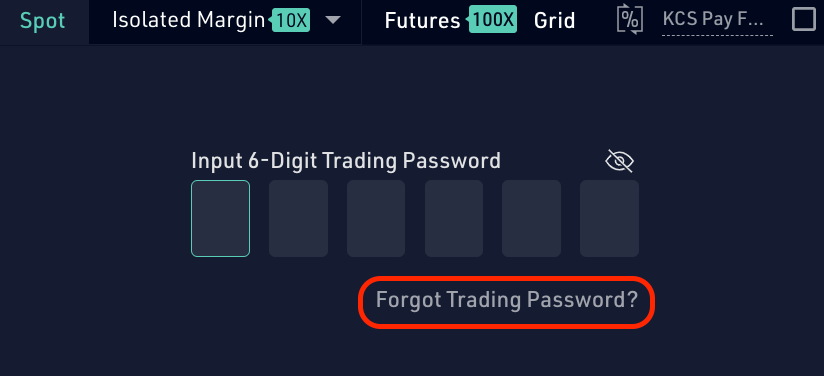 If you can't remember your password the slow way to reset it is to click forgot trading password? Then pick up on step #3 below- you'll enter an email verification code and 2FA code if applicable. After that, you will have to submit pictures of the front of your ID and the back of your ID and a selfie with your ID, a code, and today's date to the website. However, if you follow the steps below It's faster and easier than the 'forgot trading password' method if you know your current password.
The best way to set a new trading password or reset an old one

If you don't remember creating your KuCoin trading password, don't fret. Setting your trading password is fast and easy. Here are the steps:
Go to account security settings

1) Log in to your KuCoin account. Click on your name initials/first two letters in the circle on the top right side. On the drop-down menu, select Account Security.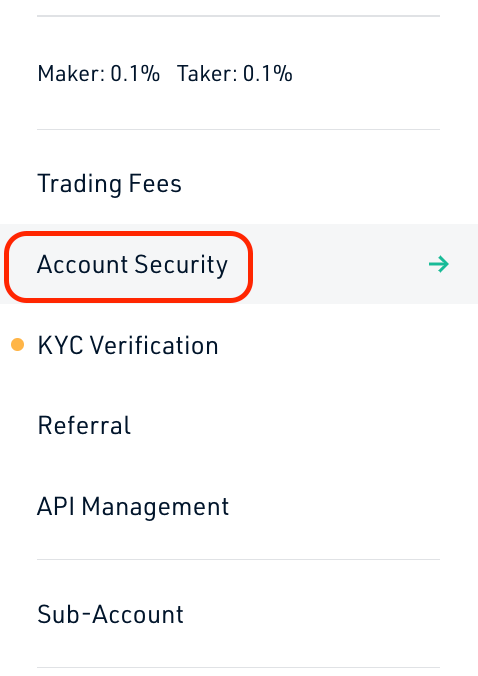 Set or change your trading password
2. On the account security page, scroll down to the trading password entry. It should be the fifth item down the page. On the right side, next to the trading password, select set. If your trading password is already set, but you can't recall it, the button will say change. In either case, click set or change.
Verify with email (and 2FA if applicable)
3. KuCoin will prompt you to enter a code from your email. If you no longer have access to that email account, you'll need to reach out to KuCoin Customer Support. Hit Send Code, check your email and copy/paste the code into the box. Select Next. KuCoin will show a pop-up with a disclaimer about the trading password. Select Okay, I understand.

Enter a new trading password and confirm
4. Under Trading Password and Confirm Trading Password, enter a six-digit numerical code that you're likely to remember. Make sure and write it down somewhere, too. Select Confirm.
If you forgot your trading password
Unfortunately the reset for a forgotten trading password takes longer. Select forgot trading password and follow the steps for pictures of your ID, and selfie. Verification with a forgotten password can take up to 24 hours.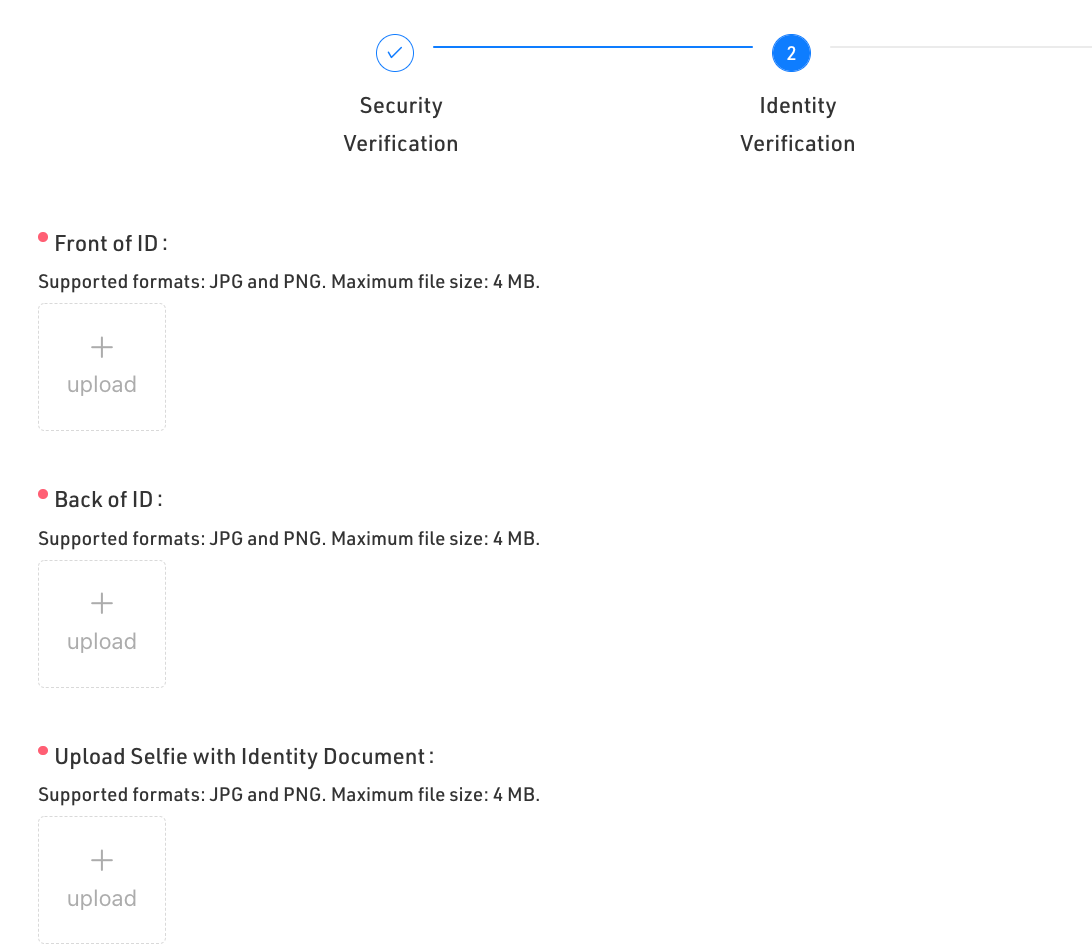 Hold up for 24 hours
5. Note that if you are changing your trading password from an old one, KuCoin will hold all trading and transactions on your account for 24 hours for safety. Go do something else besides crypto for a little!
Keep it handy

Now you've got your trading password! Remember the numbers or keep them handy, as KuCoin will prompt you for the password to confirm trades, like when you're shorting cryptos on KuCoin futures.