Trading cryptocurrency is loads of fun if your idea of fun is going on a terrifying and exciting roller coaster ride.
The KuCoin exchange is an awesome playground. They've got margin trading, low fees, tons of crypto assets, short trading, and everything in between. KuCoin supports loads of exotic altcoins that are hard to get on other exchanges.
The short answer here is yes, you can trade on KuCoin with just an email address. KuCoin no verification trading is easy to start. You can be spared from the KYC process. However, there are restrictions on daily withdrawal limits, futures trades, and fewer trading benefits.
Just hit sign up on the KuCoin homepage, then flip over to email instead of a phone number.
Enter your email and hit send code and copy the verification code sent to your email and enter it in the second box that says email verification code. Set your login password and put rJXV3CH as the referral code and you'll get a free VIP trial for one month!
This feature is not available for institutional accounts. Individual accounts are in the clear, however!
No bank account connections to your KuCoin account
This one's a biggie.
KuCoin offers no bank transfer for ANY customers, KYC verification or not. Fiat money doesn't have a place on the KuCoin platform. This means you'll need to move your crypto assets onto KuCoin from another exchange like Coinbase, or a hot wallet like MetaMask.
One more time: it doesn't matter if you have KYC verification or no KYC verification. You can't connect a bank account to your KuCoin account, even if it's a verified account.
Similarly, you'll need to send crypto back to another exchange or wallet when it's time to cash out.
Why KYC and verification?
Unverified accounts have limited privileges on the platform.
Even though the vast majority of money laundering and other vice happens with fiat currencies, crypto offers criminals a way to move money around undetected. Obviously, illegal activity doesn't sit well with governments around the world.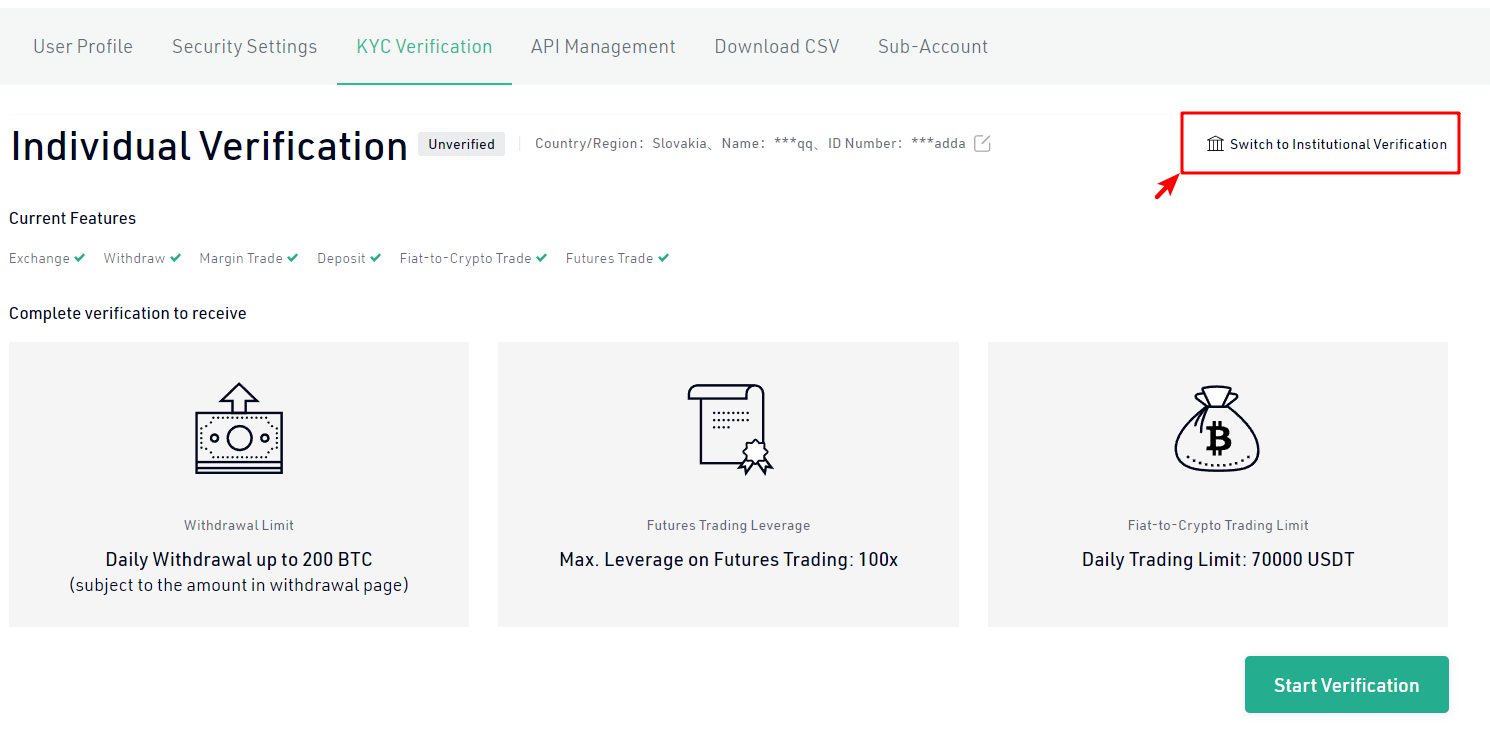 To prevent money laundering, all crypto exchanges have introduced the KYC verification process (know-your-customer). The KYC procedure usually involves an authentication procedure, a driver's license or a passport, KYC procedures are the opposite of fun. It's the digital equivalent of getting a full pat-down by airport security.
The account verification process often takes up to two business days, since a human usually needs to review your passport or driver's license upload.
Benefits of verification
Customers who've done KYC verification have more trading benefits with their KuCoin account. This includes a higher daily withdrawal limit, lower fees if they buy KuCoin's native token (KCS), more leverage with margin trading, and more.
The daily withdrawal limit without KYC is 5 Bitcoin ($150k at time of writing), and 200 Bitcoin with KYC verification. A 5 Bitcoin daily withdrawal limit is more than enough for most people!
Deposit and withdrawal fees remain the same for all users on the KuCoin exchange.
Set a trading password
You'll use a trading password to perform all your trades on KuCoin. The trading password is an added layer of security for your trades in case someone hijacks your phone or computer in a phishing attack. The trading password protects you from that. See my piece on how to set your trading password. Be sure to write your trading password down somewhere.
Always do two-factor authentication
KuCoin uses Google Authenticator as its standard 2FA, but you're free to use another authenticator app like DUO. To set up with the Google Authenticator app, you will need to give KuCoin your mobile number.
I always encourage 2FA for security reasons. Fraud is rampant in the crypto space, and users should do everything they can to protect against fraud.