TL;DR- Click the three dots at the bottom left corner of the NFT on OpenSea or NFT collection and select the hide option. Below we'll discuss who this hides your NFTs/collection from and why you'd do it. This process is the same as 'delisting' your NFT(s) from a sale. Once this is done, your NFTs will be under the 'hidden' tab on your profile page.
I've had issues and bugs with the hide/unhide feature, so now I leave my NFTs unhidden. Check your hidden tab after performing the below steps.

Why would I want to hide my items?
There are a couple of reasons why people like to hide their NFTs (non-fungible tokens) on their OpenSea profile. There are only one or two negatives and a lot of positives.
Sellers can see your worth

If you own an NFT on OpenSea and haven't yet hidden it, other users on OpenSea will be able to click on your profile and see how many NFTs you have and what they're worth. If you're trying to negotiate to buy or sell an NFT, the other party will know the worth of your collection.
It's the equivalent of a used car salesman knowing exactly how much cash is in your bank account when you walk onto the lot. Sellers could use this information thinking that they could milk you more than you're willing to pay. Shitty, right?
Your NFT might be personal
You could have an item worth millions. You could have an item that has personal information about you. You could have an item that has an explicit photo of you or someone else. There are plenty of reasons for you to want someone else to not be able to see your NFTs on Opensea!
People can spam your crypto address
This happens most commonly with the Polygon network since transaction costs are so cheap. NFT projects on OpenSea use a black hat technique to promote their collections: they airdrop NFTs into thousands of wallets in hopes that more users will see their collections.
Worse, a lot of these collections aim to mislead people and take their NFTs or crypto.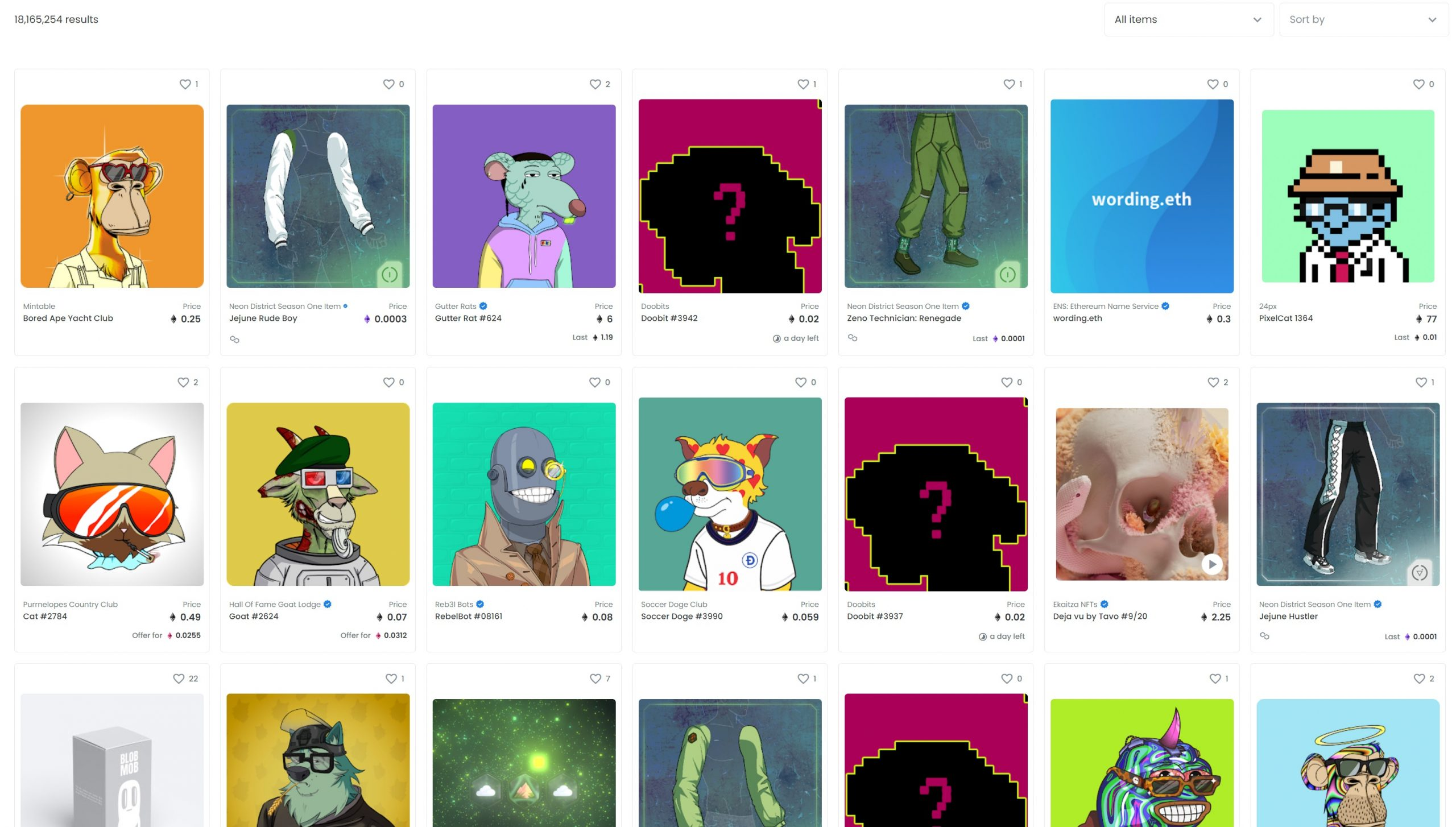 Hidden NFTs on OpenSea fix most of these problems. You can hide up to 20 items on your OpenSea profile. While this will conceal the NFTs from users viewing your profile, NFTs are still publicly viewable. How?
How to hide or unhide items on OpenSea
Log in with the right wallet

1. Log in to your OpenSea profile with your wallet. Make sure you choose the right wallet and that you're on the correct account within your wallet. MetaMask, TrustWallet, and others allow users to have multiple addresses on their wallets. Sign in to your MetaMask ahead of time and ensure you're on the right tab. Here's a guide on switching wallets with the same user account if that's where you need help.

2. Navigate to your profile page on the top-right if not already there. On the middle left of the page, select collected. You will see your publicly-viewable NFTs on OpenSea. For the NFTs you're looking to hide, look at the bottom left corner.
Hide the NFT in question
3. Click the three dots on the bottom left corner of the item you'd like to hide. When greeted with the drop-down menu, select hide.

4. You'll now see your collection through the selection screen. Here, you can select multiple items if you wish to hide more than one (you can hide up to 20).
Confirm your hide
Select any other items you'd like to hide, then confirm by clicking the blue hide button on the bottom right.
Another helpful feature on this menu is making the NFT your profile picture. To do this, select the make profile picture after selecting the three dots on the bottom right of the item.

5. You may be prompted to sign in to your wallet again, or if you're using a hardware device to store your NFTs (like I do), you'll need to take additional steps.

Unhiding items
Ready to show off your NFT drip to the world again? Here's how to unhide.

6. Unhiding items involves the same process. On your profile page, navigate to the hidden tab in the middle right of the page. Select the three dots on the NFT piece you'd like to unhide. You'll land on the selection mode screen, where you can select multiple other NFTs to hide if you wish.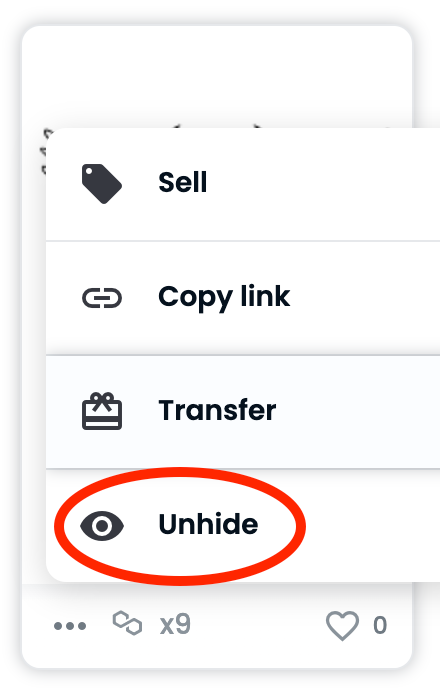 Unhide your NFT
Confirm by selecting the unhide button on the bottom right.
If this isn't working, try disconnecting and reconnecting your wallet. Disconnecting and reconnecting solve the issue for most people.
Blockchain is public

NFTs exist with smart contracts on the blockchain- the Ethereum blockchain in the case of OpenSea. While we cannot identify who wallet owners are, we can see every transaction on the blockchain.
Transaction visibility is why you see platforms like TradingView that do 'on-chain analytics'. It's also how we know whales are being active. It's how we rumor that the DOGE whale wallet with $100M in the token belongs to Elon Musk.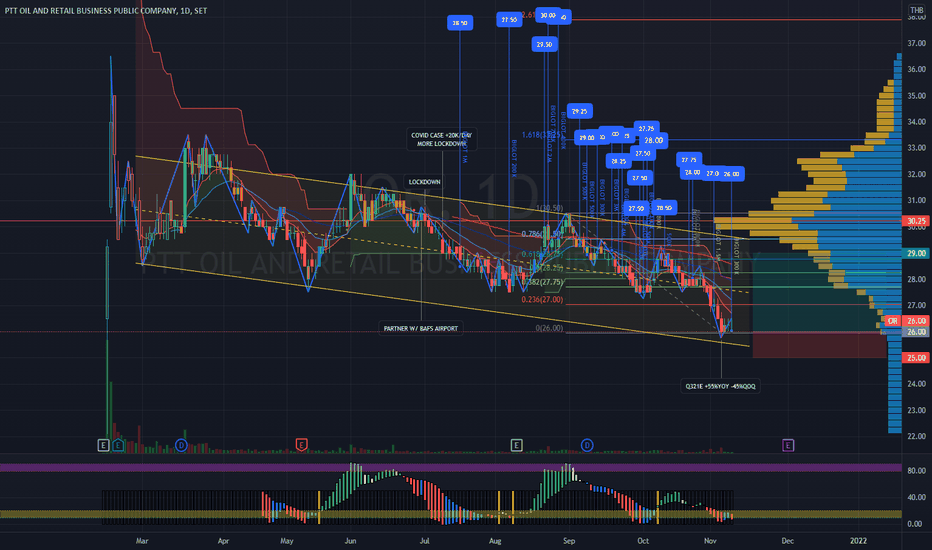 Etherscan or other blockchain equivalents hold all information about all transactions, so people would be able to see your assets if they genuinely wanted to.
However, seeing your assets would take more work than just looking at your OpenSea profile.
This incorrect display of NFTs on your account is frustrating. You might think you've lost your NFTs and that no one can help you. Don't fret- keep in mind that OpenSea is a US-sanctioned company headquartered in New York City.
OpenSea has a customer support portal where you can submit a request to get your issues solved. OpenSea also highlighted a couple of the most common reasons for this problem.
Etherscan should be your single source of truth regarding which NFT assets your wallet holds. Remember that each OpenSea account can only have one wallet- you can go to Etherscan and view that wallet and see which transactions have and haven't taken place.