The KuCoin crypto exchange has turned into a force of nature, with 1 in 4 crypto traders worldwide using its platform. If you're a KuCoin user, you can make money when others user your referral code.
What's the KuCoin referral code?
Your KuCoin referral code will allow you to earn rewards when others (I.e. your friends and family) sign up for KuCoin using your KuCoin referral code.
Once a person has signed up using your code, KuCoin uses 'stars' to track your rewards.
Rewards tracking
The KuCoin referral code also earns you rewards when someone who's used your code does any of the following:
Gets KYC
Deposits >100 USDT worth of crypto
Spot trading volume > 100 USDT
Futures trading volume > 100 USDT
Below are snapshots of the stars earned and rewards 'prizes' given.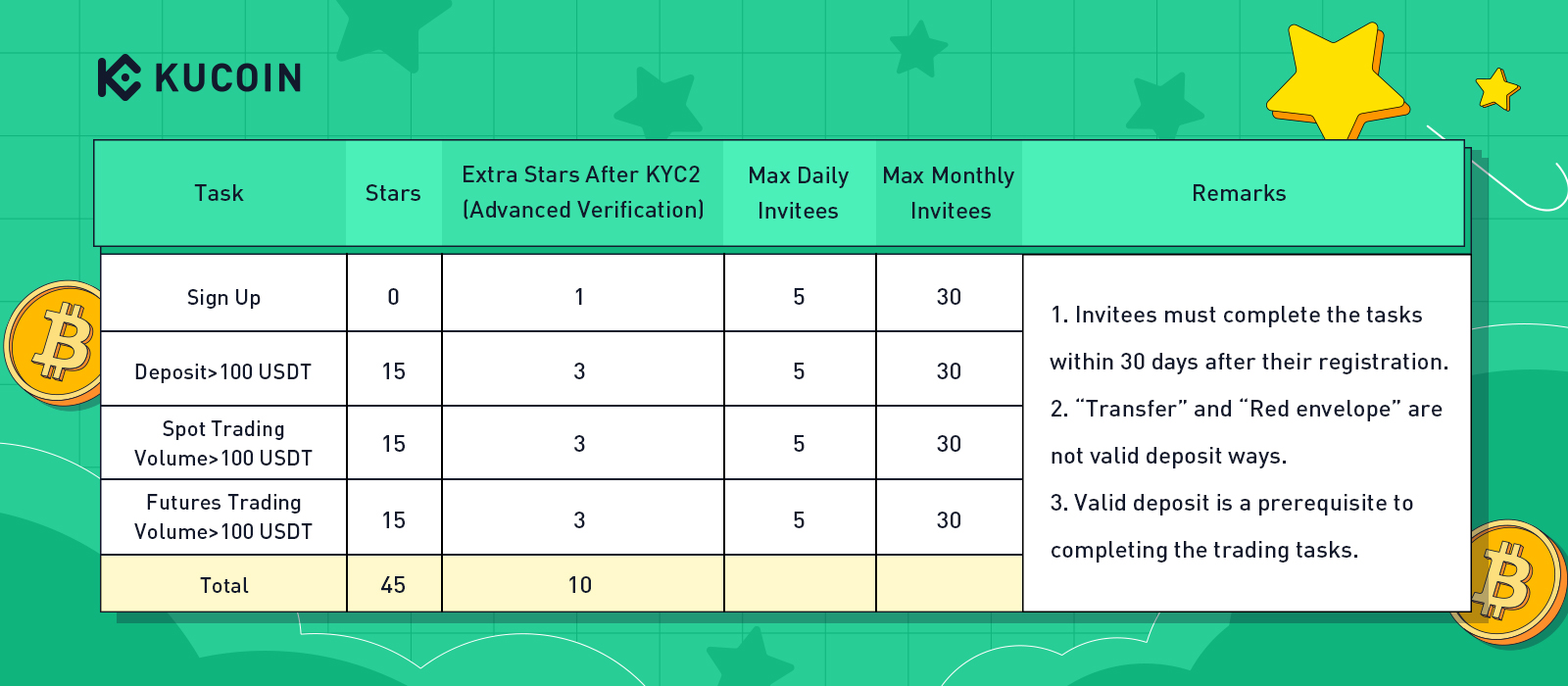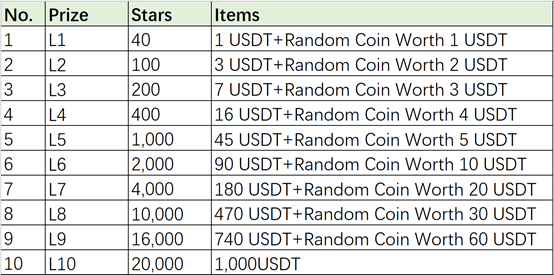 Note that the KuCoin app referral code and the KuCoin referral code will be the same provided you're using the same account.
How to find your KuCoin referral code
Log in
Login to KuCoin. In the top right, hover over the circle containing your initials.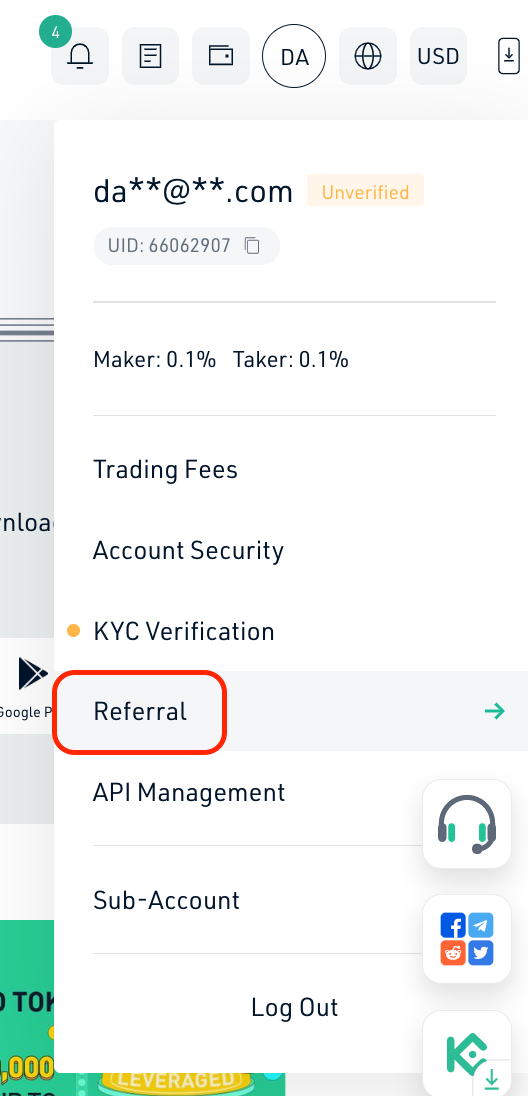 Go to the referral code page
Click referral from the dropdown.
Shazam! Your referral code and referral link are shown in the middle of the page. Copy and paste, and share these as you'd like.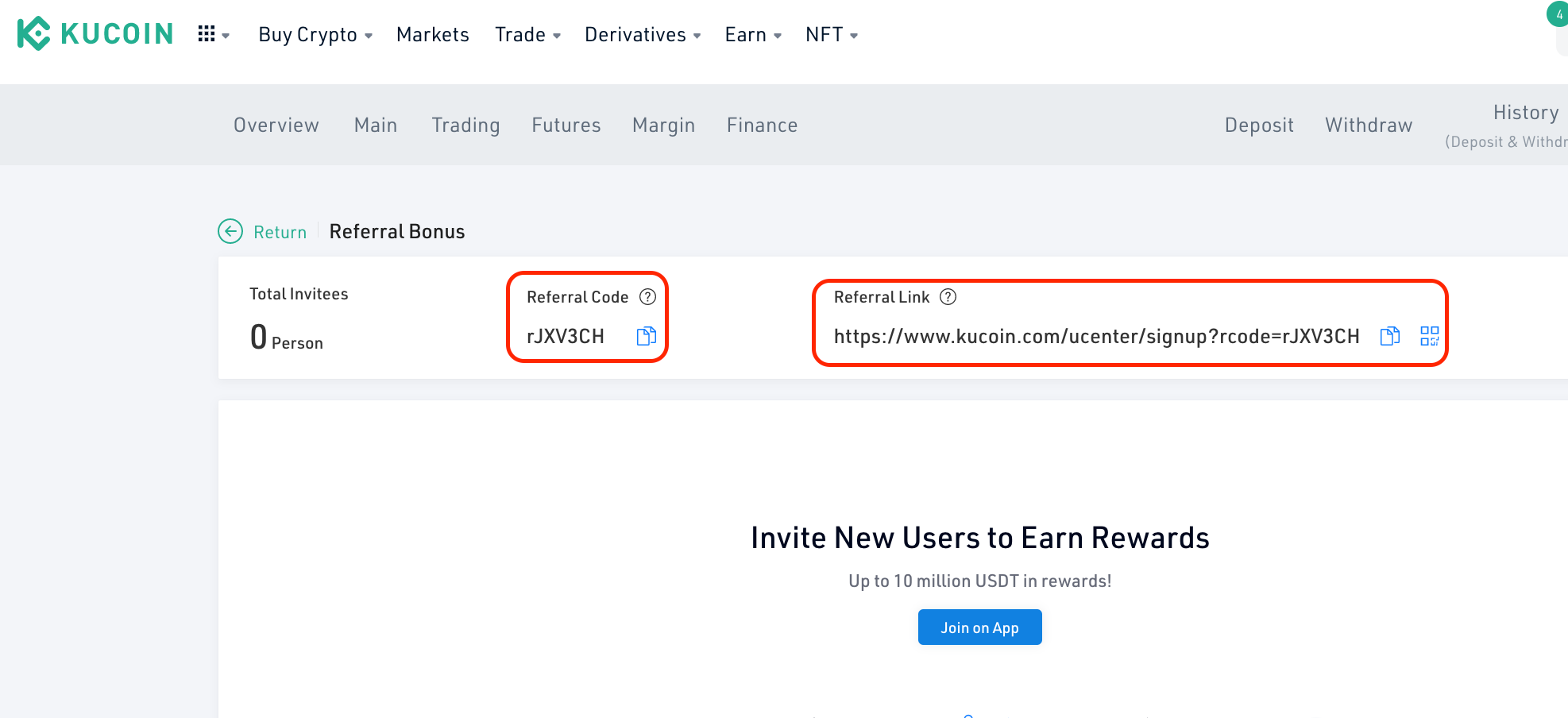 If you're on the KuCoin app
The process is nearly the same on the KuCoin app. On the mobile app, click your initials in the circle on the top left of the screen.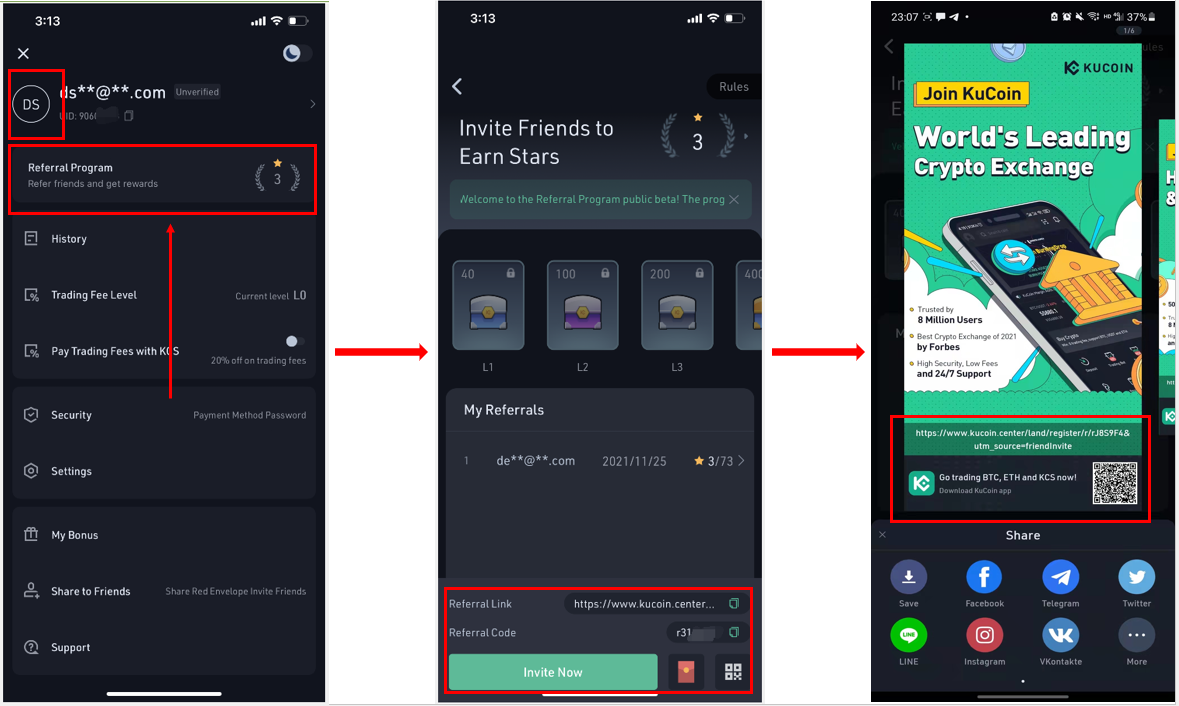 Click the referral program button- it should be the first item on the menu display.
Once on the referral page, you should see your referral code and referral link at the bottom of the KuCoin app screen. Click the Invite now button to get the QR code to share with your friends.
Your KuCoin referral code on the KuCoin app should match the KuCoin referral code you see on your desktop, given it's the same account.
The KuCoin referral program is not the same as the KuCoin affiliate program
If you have a website, a large social media following, or any other type of media with a sizeable user/follower base, you can apply to become a KuCoin affiliate.
As an affiliate, you'd still have a referral code, but your agreement with KuCoin is different and your commissions come from the trading fees of your referrals.
KuCoin affiliates earn 40% of the trading fees of their referrals! Imagine landing some whales through your affiliate program who end up doing a few million dollars in trading.
You'd be on your way to having a vacation home in Hawaii. Most of us aren't so lucky, though.
Additionally, the KuCoin affiliate program lets you earn a portion of the trading fees from referrals of your referrals. Pyramid scheme city! It's awesome if you're the one at the top, though.